Middle School Overview (Schedule, Recipes, etc..)
OLD TESTAMENT
MIDDLE SCHOOL
This file is provided as a resource for Church School directors. Feel free to plug in your own dates and your own teachers.
Teachers:
Schedule of Classes:
     Date

Teacher

   Lesson/Activity

               Special Notes

September 13

                  20

                  27

 

Creation

Adam & Eve/The Fall

Noah

 

 

October      3

                   4

                  11

                  17

                  18

                  25

 

Movie Night: Noah

Tower of Babel

Abraham

Movie Night: Abraham

Isaac

Jacob

Outdoors if possible

 

 

Social Hall after Vespers

 

 

November   1

                   8

                  15

                  21

                  22

                  29

 

Joseph #1

Joseph #2

Moses #1

Movie Night: Moses

Moses #2

Balaam

All Saint's Party

 

 

Social Hall after Vespers

Memory: 10 Commandments

December   5

                   6                                                           

                  13

                  20

                  27

 

St. Nicholas Party

Joshua

Judges/Gideon

Nativity Pageant

Job

Parish Wide

 

 

Social Hall and Nsg. Home

 

January       3

                  10

                  17

                  24

                  30

                  31

 

Ruth

Samuel/Hannah

Saul             

David/Goliath/Psalms

Movie Night: David

David

 

3 Kings Party following

 

Memory work: Psalm 22

Social Hall after Vespers

 

February     7

                  14

                  21

                  27

                  28

 

Solomon

Proverbs/Song of Songs

Elijah

Movie Night: Elijah

Elisha

 

Pack School Kits

 

Social Hall after Vespers

March         7

                  14

                  21

                  28

 

Jonah

Isaiah

Jeremiah

Ezekiel

 

April           4

                    5

                  11

                  18

                  25

 

PASCHA

Bright Monday Egg Hunt

3 Young Men in Fire

Tobit

Daniel

No Class

After Liturgy

 

Pack Health Kits

 

May            1

                    2

                   9

                  16

                  23

                  30

 

Movie Night: Esther

Esther

Minor Prophets

No lesson: Camping Trip

Minor Prophets

Ezra/Nehemiah

Social Hall after Vespers

 

Memory Work: Books of O.T.

 

Book Collection

June            6

                  12

                  13

 

Maccabees

Dress Rehearsal

Closing exercises/play

Book Collection

Social Hall after Vespers

Social Hall and Nursing Home
Classroom supplies: I am quite aware that most of you do not like crafts, but the children and parents have lobbied to include crafts; indeed most 11-12-year-olds love crafts. So…Each week there will be a small craft but it is critical to do each craft because at the end of the year, each student will have completed his own Jesse Tree, which his family can use every year during Advent. A Jesse Tree includes small objects symbolizing the Old Testament characters who were forefathers of Jesus (either genetic or spiritual). The crafts were chosen for the theme, but also to give the students a chance to see various mediums – clay, fabric, pipe cleaners, etc. The box will contain markers, tape, scissors, glue, and staples, in addition to your usual pencils, paper, and huge pad of paper to serve as a "blackboard". Each student should have his own Bible and should either leave it on the shelf or bring it each week.  There are also maps of the holy land and of the temple and a classroom copy of God is With Us.
Teaching Schedule: We all know that there will be last-minute needs; trade with someone if you cannot teach on your assigned day and let the director know!
Insurance: Each of us must "apply" each year for our volunteer position of teacher. Please be sure not to send small children to the bathroom unattended and accompany your charges back to the Social Hall after class.
Opening Exercises: The Church School director will supervise this time, or delegate it when she is absent. Church School children and teachers are dismissed first from Liturgy; children come straight across for snack during opening exercises. These are an integral part of the curriculum – reviewing material from previous weeks, presenting additional Old Testament characters, rehearsing plays, hearing memory work, and playing quiz games.
Curriculum:  With each lesson, there is a suggested craft and learning game, in addition to the reading material and the discussion questions. While it would be nice to think the students would read the material ahead of time, it never happens! So, you'll have to either read it to them or, if they're good readers, read it aloud in class.
Movie Nights and Parties: We will have pizza after vespers on Saturday night while showing a small children's movie. Older children should bring a sleeping bag for a lock-in with "feature" presentation; we must have at least 2 adults at each overnight. We'll leave it up to the parents to decide whether their child is old enough to spend the night or should go home after the "kiddie" movie.
Hand-Outs: Feel free to use the puzzles in the Parents' Guide or the online Antiochian resource, The Scribe, for take homes. These should serve both to reinforce the lesson, and to connect the Old Testament lesson with the life of Christ and Gospels.
Icons: Each lesson now includes an icon, usually gleaned from a non-copyrighted website or other internet image. Feel free to blow it up and print and use as an illustration. There are many more available on the Internet for you to select from.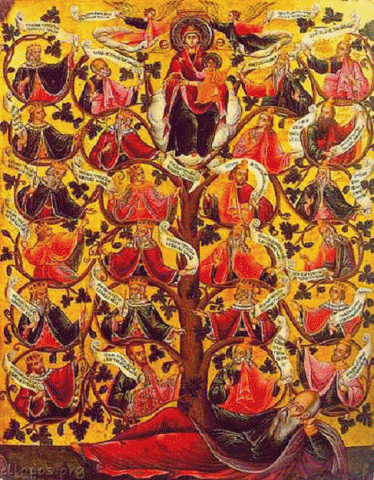 THE JESSE TREE
     The idea for a Jesse tree comes from the Scripture referring to Jesus as being a tree from the root of Jesse. Jesse was the father of David, ancestor of Jesus both through Mary and through his adoptive father, Joseph. It was because of this ancestry that they were both traveling to Bethlehem for the census; Bethlehem was the city of David. Thus, the Jesse tree holds symbols of the ancestors, either physical or spiritual or both, of Jesus.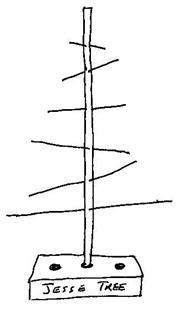 Traditionally, the Jesse tree is placed in the home at the beginning of Advent. For each day, the children add an "ornament" to the tree, one for each of 40 Old Testament saints and prophets. It is left up during the Christmas season as a reminder of the centuries God spent preparing a people for His coming.
            How to make a Jesse tree? I've seen both 3-D and 2-D versions. With a 3-D version, you could take either a small purchased Christmas tree or a bare sapling or tree branch that looks like a tree, or make one with dowels like we are doing this year with the 10-12-year-old class is Church School. Then, for each character, you make a 3-D ornament that symbolizes the 40 characters you have chosen – e.g., an apple for Adam, a rainbow for Noah, a camel for Abraham, etc. These can be made a simply as taking a regular Christmas ball and gluing on a picture or a sticker, or with a multitude of craft styles and skill levels. They can all be in the same style or in a vast array of styles; if you leave them up to the creativity of the children, they'll be in a vast array of styles, but interesting!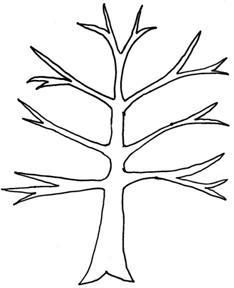 3-D version takes up too much space or too easy to knock over? Then make a felt banner with a large brown or black tree with lots of branches. Hang it on the wall and cut out felt shapes symbolizing the various characters and place them as if hanging from or sitting on the branches, one for each day. Using felt, you do not need Velcro unless the "ornaments" are particularly heavy. Some people get really fancy and  needlepoint or embroider or stuff their ornaments; these will be heavy and need Velcro. 
You don't have children at home anymore? What more lovely gift to make for the grandchildren or godchildren than a Jesse tree complete with ornaments (or ornament kits) that they would enjoy year after year?
Here are some suggested readings to go with the Jesse Tree ornaments we are making in class. The ornaments we made in Church School are in normal print. But there are more days in Advent than we have weeks in Church School. The other characters in bold are discussed in the opening exercises and ornament is suggested that can be made at home very, very simply to finish the 40 days.
| | | |
| --- | --- | --- |
| Reading | Subject | Ornament |
| Genesis 1 and 2 | Creation | Paper creation ball |
| Genesis 3 | Adam and Eve | Bead apple |
| Genesis 5:18-24 | Enoch | White Hair |
| Genesis 6:9-8 | Noah | Rainbow of beads |
| Genesis 11:1-8 | Tower of Babel | Tower of toothpicks |
| Genesis 12:1-8, 17:1-8, 18:1-15 | Abraham | Egg-carton Camel |
| Genesis 21:1-6, 22:1-18, 24:1-17 | Isaac | Lamb on Fire |
| Genesis 25: 21-34, chapters 27-29, 31:1-7, chapter 33 | Jacob | Macaroni Angel |
| Genesis 37, Genesis 39-45 | Joseph | Many-colored Coat |
| Exodus 2:1-3:21, 5:1-15, 12:21-36, all of 14, 19 and 20 | Moses | Clay tablets |
| Numbers 22-24 | Balaam | Spool Donkey |
| Joshua 2 | Rahab | Small Basket on Rope |
| Joshua 2, 4, 6, 24:15 | Joshua | Gold Trumpet |
| Judges 4 | Deborah | Horse |
| Judges 6-7 | Gideon | Clay pot with Candle |
| Judges 13-16 | Samson | Scissors with Long Hair |
| Job 1 and 42 | Job | Egg Face |
| Ruth 1:3-8, 6-19, 2:1-12, 4:9-11 | Ruth | Sheaf of wheat |
| I Samuel 1, 2:18-20, 3 (whole chapter) | Samuel | Tunic on Hanger |
| I Samuel 9:15-10:8, 13:1-15, 15:10-28 | Saul | Paper crown with jewels |
| I Samuel 16-17, I Samuel 19:1-10, 20:12-42, II Samuel 4:4, 9:1-7, 15:10-14, 18:5-14, 33 | David | Leather Slingshot |
| I Kings 1:32-37, chapter 3 | Solomon | Clay Temple |
| I Kings 17:1-18:2, 18:17-46, II Kings 2:1-13 | Elijah | Feather Raven |
| I Kings 22:1-47, II Chronicles 19 | Jehoshaphat | Harp or Cymbals |
| II Kings 4:1-36 and chapter 5 | Elisha | Clothespin Naaman |
| Jonah 1-3 | Jonah | Yarn Whale with Jonah |
| Judith 8-13 | Judith | Doll's Head |
| Isaiah 6, 37:33-38:8, 39 | Isaiah | Fiery Coal |
| II Chronicles 29, 30, 32 + Isaiah 36-38 | Hezekiah | Sun |
| II Chronicles 34 and 35 | Josiah | Small Bible |
| Jeremiah 13:1-11 and chapter 28 | Jeremiah | Felt Belt |
| Ezekiel 1:1-28, 3:1-9, 37:1-14 | Ezekiel | Skeleton |
| Daniel 3 | 3 Young Men in Fire | Pipecleaner Men |
| Tobit 2, 5-12 (shorten as needed) | Tobit | Tobias's Fishing Rod |
| Daniel 5 & 6 | Daniel | Lion |
| Esther 5:1-8 and chapter 7 | Esther | Beaded Crown |
| Daniel 22:33, Habakkuk 3:17-19, 2:20 and 3:3 | Habakkuk | Pot of Stew |
| Micah 1:1-12, Micah 6:8 and Micah 5:2-4 | Micah | Soldier |
| Nehemiah 2:1-6, 4:6-23, 8:1-9 | Ezra and Nehemiah | Scroll |
| II Maccabees 5:11-27, 8:1-10:9 | Judah Maccabee | Hanukkah Candles |
RECIPES
                            CLAYS                                                                  PAINTS
SALT DOUGH                                                         FINGER PAINT (4 WAYS)
2 cups flour                                                                 Use pudding with food coloring!
1 cup salt                                                                     Mix liquid starch and food coloring.
about 1 cup water                                                       Mix 3 T sugar, ½ cup cornstarch, and
food coloring                                                                          2 cups cold water. Cook over
bath oil, vegetable oil, peppermint oil                         low heat, stirring, till thick.
            Mix flour and salt. Add water                                    Pour into muffin tin. Add
slowly and mix with your fingers until                                   food coloring to each cup.
it makes dough. Knead in a few drops
food coloring and a splotch of oil (if                          SAND PAINT
desired). Store in air-tight container.                          Add dry tempera paint to corn meal.
                                                                                    Sprinkle over areas "painted" with thinned glue
SELF-HARDENING CLAY                   
1 cup sand                                                                               for sand effect. Shake off excess.
½ cup cornstarch
1 tsp powdered alum                                                                          PASTES
¾ cup hot water                                                          PRIMARY PASTE
Food coloring if desired                                             Mix ½ cup water and 1 cup flour
            Mix sand, cornstarch and alum                                   in a bowl. Spoon into a jar
in large pot. Add hot water and stir                                       or squeeze bottle to store.
vigorously. Add food coloring if
desired. Cook over medium heat                                PAPIER MACHE PASTE
until thick, stirring constantly.                                    3 cups water
After cooling, store in airtight container.                    1 ½ cups flour
                                                                                                Mix flour with cold water until lumps are gone.
SAWDUST CLAY                              
2 cups fine sawdust                                                    Dip strips of newsprint in paste and mold around
1 cup flour                                                                   surface to be shaped. Air dry.
Water
            Mix sawdust and flour in bowl
or bucket. Add a little water at a time,
stirring till it is stiff but pliable. Knead
till it's elastic and easy to shape. Store
in airtight container. Air dry.
CORNSTARCH DOUGH
2 cups cornstarch
4 cups baking soda
2 ½ cups water
            Mix cornstarch and soda in large
pot. Add water. Cook, stirring, over medium
heat until thick like mashed potatoes. After
cool, knead on wax paper for 5 minutes. Store
in an airtight container. Air dry.