Lazarus
Lazarus
Home Activities:
Visit a museum with mummies – e.g. the Walters.
Visit an old graveyard.  Tell the story of Lazarus there and do some grave rubbings with
newsprint and crayons.
Read the story at bedtime each night.
Puzzle and coloring page. Put the icon in your icon corner.
Prayer: Dear Jesus, by raising Lazarus from the dead before Your passion, you confirmed the universal resurrection, O Christ God! Amen.
LAZARUS WORD PUZZLE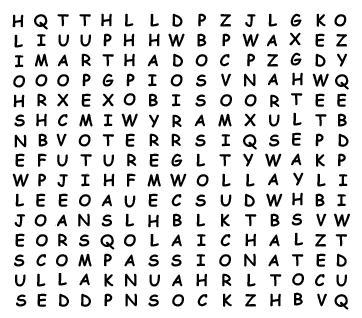 Can you find these hidden words?
 
MARY
JESUS
MARTHA
LAZARUS
FUTURE

EMOTIONS
COMPASSIONATE
ROCK
POWERFUL
ALLOW
Lazarus Dot to Dot