Antioch: St. Raphael Hawaweeny
ST. RAPHAEL HAWAWEENY OF NEW YORK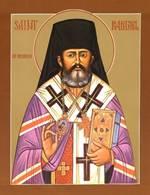 Objectives:
Students should know the name of St. Raphael and be able to tell his story.
Students should know his importance to the Antiochian church in America.
Possible Lesson Plan:
Open with prayer.
Have ready a map of North America and a copy of "The Word". Tell the story of St. Raphael Hawaweeny, Bishop of New York:        
            Raphael was born in Syria in 1860 – just 150 years ago. But, in Syria Christians were still being persecuted, now by the Moslems and not by the Romans, and his family had to flee to Beirut, Lebanon, when he was a baby. Later, they returned to Damascus in Syria. There Raphael was a very good student in school. His parents were too poor to pay for his schooling, but the Deacon Athanasios asked the church to pay. Young Raphael was studying to be a priest. In fact, he was such a good student, that soon he was helping to teach. In seminary, Raphael was ordained a deacon; remember what a deacon was? He then studied in Halki, near Constantinople. But, he still wanted to learn, and he was sent to the Academy of Kiev in Russia. There he learned Russian and was ordained a priest, head of the Arabic Antiochian church in Russia. He stayed in Russia as a teacher.
            But a call went out for someone to go to the new lands in America. There were Arabic Orthodox Christians there without a pastor. Fr. Raphael set off across the ocean. In less than 2 weeks, he had set up a chapel in New York and was celebrating services. The chapel was blessed by the Russian Bishop Nicholas – the head of all Orthodox in America.
            Soon, Fr. Raphael heard of small communities of Arab Christians all over the continent. Many of these had no priest, no church. Who would help them maintain their Orthodox faith in this strange land, full of Protestants and Roman Catholics. Fr. Raphael set out across the country – to San Francisco and back. Follow his journey on your world map or globe. Remember there were no airplanes or cars in 1896; all travel was by train or boat. He performed marriages, baptisms, confessions, liturgies – often in homes where there was no church. For these Arab Christians, he produced an Arabic language service book. Later he would also begin the Arabic Christian magazine, "The Word", still published today.
            Fr. Raphael saw the need for more Arabic-speaking priests and received the Russian bishop's blessing to bring many over from Syria. He traveled again around the country, visiting 43 cities and towns. He ministered to Greeks and Russians, too, all part of the Orthodox flock in America. Back in New York, he worked hard to provide a real church for the Syrian Christians in New York and a cemetery of their own. He loved America and, even when offered the role of bishop back in Syria, chose to stay in his new country. He learned English and began to use English in services and Church School.
            After many years, the new Russian bishop said that he needed more bishops for the ever-growing church in America. Fr. Raphael was ordained a bishop in 1904 in New York – the first Orthodox bishop ever consecrated on American soil.  As bishop, he ordained priests and started new parishes. He consecrated the grounds of St. Tikhon's Monastery in Pennsylvania. He even traveled to Canada and Mexico. Finally, in 1915, Bishop Raphael Hawaweeny went home to be with his Lord, dying in his sleep. In the year 2000 he was named a saint, to be remembered on February 27, the day of his death.
Begin the orientation of this young class to the unusual political situation of the Orthodox Church here in the USA. The first missionaries, as they will study later, were from Russia; St. Innocent is known as the apostle to America. All Orthodox in America, therefore, came under the authority of the Patriarch of Moscow – the Russian Church. Fr. Raphael was sent to America by the Russian Church and was consecrated a bishop by the Russians. He was Arabic by descent, but ministered to all Orthodox – Russian, Arabic, Greek. So, what happened? Why do we have so many little ethnic Orthodox Churches today? The Russian Revolution happened. In 1917, after the death of Bishop Raphael, the Communists took over Russia. The Russian Patriarch was killed; the church in America did not know where to turn. So, each group of immigrants turned back to the bishops of their home countries. So, to this day, we have Greek Orthodox, Antiochian Orthodox, Russian Orthodox, etc. We are one Church in America, but under the authority of a multitude of bishops and patriarchs in other lands.
Play a learning game: Musical Questions. Make a circle of chairs, facing outward, with one too few for the number of students. Have your boombox ready (with Arabic music?) or sing the Troparion to St. Raphael:
                        Your proclamation has gone forth throughout North America,
                        Calling the scattered sheep into the unity of the church.
                        Hearing your voice, they responded to your teaching,
                        And thru your writings you instructed them in piety.
                        Now, guided by our example, O Father Raphael,
                        We sing hymns of praise unto Christ our God.
                   The students begin circling the chairs with the music. Stop the music at unexpected intervals. The student who does not get a chair is out – unless he can answer a question about today's lesson.
Make St. Raphael's Countries Globe. Cut out the pattern on the next page. Color the water blue, and all of the countries where St. Raphael lived or visited red: Syria, Lebanon, Turkey, Russia, USA, Canada, Mexico. Fold on the dotted lines and tape the tabs. Poke two small holes for a string to hang it by in your window. There is no doubt that St. Raphael lived by Jesus's command to "Go Ye."
Close with prayer: Lord, when I travel, may I be Your messenger and minister as was St. Raphael.