Forgiveness/Paralytic
Forgiveness/Paralytic
Home Activities:
Prepare for Great Lent with your child. Set up his piggy bank, made during lesson on the Prodigal Son. The change earned and found will be donated to IOCC at the end of Great Lent.
Discuss the fast, to be observed in some degree at every age level. Plan to attend Lenten services as a family.
Attend Forgiveness Vespers with your child.
Begin your Path of Lent "gameboard" by coloring in one day for each day of Lent. 
Begin your 40-day "Be a Helper" Calendar with a good deed each day. Write it on the calendar.
Read the story at bedtime each night.
Prayer: Forgive us our trespasses, as we forgive those who trespass against us. Amen.
JESUS HEALS THE PARALYTIC: HIDDEN WORD SEARCH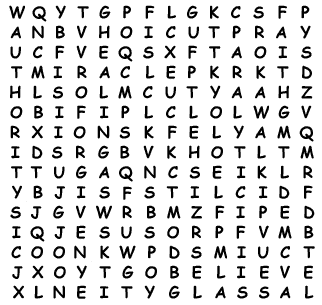 Can you find these hidden words?
PARALYTIC
FORGIVEN
MIRACLE
AUTHORITY
JESUS

HEALING
PRAY
FAITH
WALK
BELIEVE