TRANSFIGURATION
Objectives:
            1. Children should recognize the figures in the icon, identifying Jesus, Moses, Elijah, Peter, James, and John
2. Children should remember the Old Testament stories of Moses and Elijah.
3. Children should be able to explain the reasons why we hold our hand the way we do when we cross ourselves.
Possible lesson plan:
DORMITION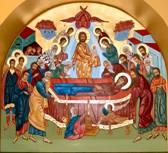 Objectives:
Children should be able to tell the story of the dormition and to recognize the characters in the icon.
Why do we bring flowers for the dormition?
Possible Lesson Plan:
1. Open with prayer.
Pages